Join Kilimanjaro, the world's highest free-standing mountain!
Climbing Kilimanjaro is a dream for many.
Recommended time to travel: all year round, apart from the rainy season in November and between April and May.
Hoydepunkter: climb Africa's highest mountain, Kilimanjaro
Possible safari and Zanzibar afterwards.
Price level: from NOK 27 per person

Suitable for: fit and adventurous guests
DAY 1 AND XNUMX:

Arrival Kilimanjaro airport. Short transfer to Keys Hotel, Moshi for accommodation.
DAY 2 AND XNUMX:

After an early breakfast, a senior guide will brief you on the climb. You will then be driven to Gate National Park, near Machame Village to meet the rest of the guides and bearers. After the formalities at Gate are completed, the trip through the rainforest begins. This part of the climb takes approx. six hours. Arrival Machame Hut (3.300 m) for the night.
DAY 3 AND XNUMX:

Departure Machame Hut and crossing the valley. You climb up the mountain ridges and walk through the hills. It is a fairly steep start followed by an hour of hard slopes, then approx. two hours in lighter terrain. Lunch is normally included here. After lunch, head west towards the Shira Cathedral. The last part of this route is relatively flat and light. The camp at Shira Hut (3.800 m) is open and slightly cold. You can experience rain or sleet, and the ground and tent will probably be frozen in the morning.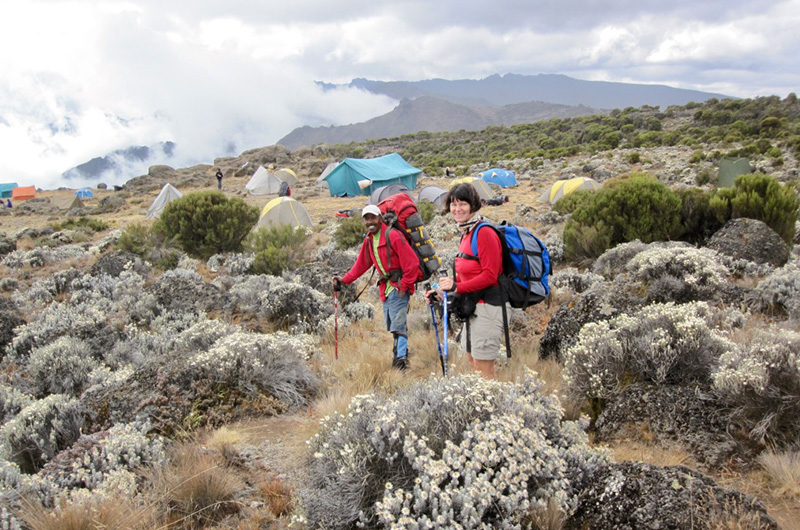 DAY 4 AND XNUMX:

From Shira continue east towards Kibo, past the intersection with circular route and further towards Lava Tower. You're going to walk in about 4.500 m around the southern side of the mountain. Some steep sections and valleys through a "moon landscape" and quite steep descent to Baranco, a long and rather tiring day. This is part of the acclimatization, you go from 3.800 m to 4500 m and stay at 3.940 m in Baranco Hut. Rain with night frost.
DAY 5 AND XNUMX:

The first obstacle of the day is to cross the Baranco Wall, an 600 foot cliff. Climbing the mountain is not technically difficult, but it is a long and strenuous ride. After that, the climbing becomes easier and extremely beautiful with stunning views of cliffs and crevasses and pointed peaks on the left. Down to the Karanga Valley for lunch (3.900m).
DAY 6 AND XNUMX:

This day it's only about three hours of walking before you arrive at Base camp, Barafu Hut (4.600 m). This is a slow and tough ride, because now the air is getting pretty thin. This will be a cold day, and you will pass the law. You take the evening early, possible with three to four hours of sleep before you wake up approx. kl. 22: 00 to spend the night up to Uhuru Peak.
DAY 7 AND XNUMX:

You're heading for the highest point in Africa - Uhuru Peak 5.895 m. First, a six hour hike in the dark up to Stella Point (5.750 m), arriving around sunrise. Now that the ground is frozen, it is easier to walk this steep part. At dawn, from Crater Rim, rugged Mawenzi is an exciting sight, with the Kibo Saddle still in the dark below you and Krater's ice walls threatening in front of you. The views are amazing and it makes the whole trip worth every step! Continue for one to two hours to Uhuru Peak along the wide lanes of the crater, where you can look down on the massive glaciers shining in the morning light. It can be quite emotional to come to Uhuru, with the burden of the ascent behind you and Africa below you! After some photography at the top, a steep but scenic descent begins at Mweka (3.100 m). We stop for a break, get some food along the way and arrive late in the afternoon for accommodation
DAY 8 AND XNUMX:

Three-four hour descent through the rainforest to the Mweka Gate. Here the car is waiting. Transfer to Keys Hotel for a good and long-awaited shower and an evening of poolside celebration.
DAY 9 AND XNUMX:

The tour ends this morning after full English breakfast. Then, exciting days await you in some of Africa's best national parks, or some long-awaited rest on Zanzibar's lovely beaches.
Are you interested in this itinerary?
Once you have completed the form, press send and please wait a few seconds for a confirmation below the inquiry form. If you haven't heard from us in a few days, email us info@getafricatravel.com