This is a journey with some of our favorites in southern Africa. Here we emphasize variety and wonderful experiences as well as first-class accommodation. Cape Town, safari, tropical beaches, Durban and Victoria Falls, the best of the best!
Destination: South Africa and Zimbabwe

Recommended time to travel: all year
Sustainability focus: Loud! Visit good social projects with Uthando and our own project with Mabibi United in KwaZulu-Natal. Join the beach clean-up at Thonga if desired and learn more about the sea turtles. Safari at a camp that protects natural areas and employs locally.
Price: from NOK NOK 46 per person
(does not include plane tickets)
DAY 1: CAPE TOWN

The journey starts in beautiful Cape Town. Here you stay at the popular V&A Waterfront, a hotel of a good standard. Located in the heart of Cape Town, V&A Waterfront is a popular tourist attraction with a large selection of restaurants, bars and shops. Arriving on time, we recommend taking the cable car up to Cape Town's landmark, Table Mountain, and enjoying the sunset over the city and down to Cape of Good Hope. A perfect start to your holiday!
DAY 2 AND XNUM: CAPE TOWN

Wonderful Cape Town has something to offer for everyone. If you love history, we can recommend a visit to Robben Island where Nelson Mandela was imprisoned most of the years he served. We also recommend a trip to Cape of Good Hope, a day of powerful nature experiences. Cape Town is a mecca for shopaholics and connoisseurs, with exciting markets, shops and several of the country's best restaurants. Explore the "mother city" on your own or with a guide. Ask us for good advice - we can Cape Town!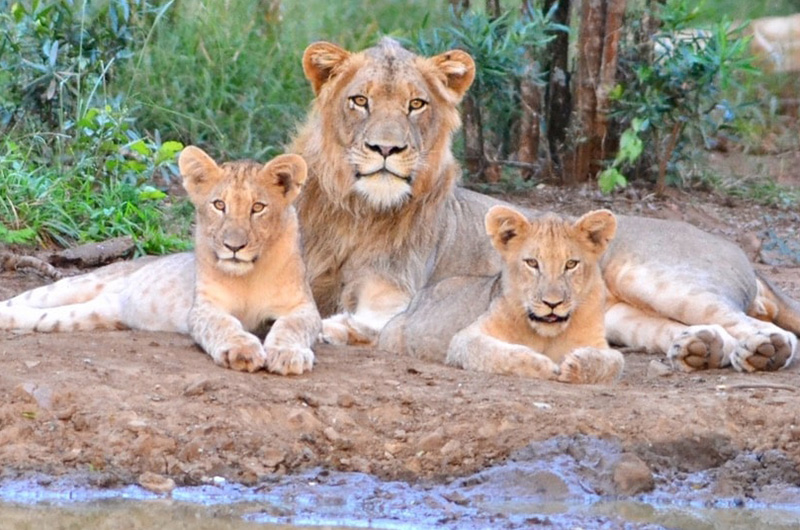 DAY 4: SAFARI

After a few days in the big city, it's time to enjoy quiet days in the African wilderness. You're flying to Durban. From here the trip goes north to Zululand where you will find some of the oldest game areas and reserves in Africa. Here you get to experience beautiful nature and exciting wildlife in a private nature reserve with "The Big Five": lion, elephant, rhino, buffalo and leopard. Accommodation at a beautiful 5 star lodge in luxurious tents / suites. On hot summer days, it is good to cool off in the pool between the safaris.
DAY 5 AND X: SAFARI

A typical day in the wildlife reserve starts early in the morning. The morning sun creates beautiful light and atmosphere in the bush, and there are good chances of seeing animals at this time of day. Suddenly an elephant flock stands in the way and you have to wait for a walk, before you spot the lions relaxing in the shade, good and satisfied after the night's catch. Later, healthy and good "brunch" awaits at the lodge, followed by relaxation at the pools, before heading out for safari again in the afternoon. The day ends with dinner under the African starry sky.
DAY 7: THONGA BEACH LODGE

After the last morning safari, continue on to the unspoilt coastal strip north of Sodwana Bay, all the way to the border with Mozambique. Now you are really "in Africa". You stay at the exclusive Thonga lodge, right on the beach. This is a paradise!
DAY 8 AND 9: THONGA BEACH LODGE

Thonga offers excellent conditions for snorkeling and diving. The lodge has its own diving instructors who offer lightning courses, so that everyone can experience the coral reef that is compared to the Great Barrier Reef in Australia. There is also a fantastic lagoon for snorkeling not far from the lodge. Just behind the dunes lies South Africa's largest freshwater lake. A canoe trip between hippos and crocodiles is a must!
DAY 10: DURBAN

The beach town of Durban is known for more than being a "hotspot" for surfers. Durban was recently named South Africa's coolest city by CNN and lives up to its designation. Here there are good opportunities for shopping, including the city's many exciting markets, surfing and other water activities. Restaurants from all over the world that can tempt even the most discerning palates. We recommend a guided tour of one of Durban's townships and we can promise that it will be a memorable day with many impressions. This is where you can taste real South African barbecue, "shisanyama".
DAY 13 - 15: VICTORIA FALLS

The journey continues to one of the world's six natural wonders: the mighty Victoria Falls - "Mosi-oa-Tunya", the fog that thunders. The falls were a sacred place among the locals long before the Scottish missionary David Livingstone came and was rescued by the magnificent falls. They were so beautiful that they named the waterfalls in honor of Queen Victoria. You are staying in a great hotel near Victoria Falls. At sunset you can enjoy a drink while watching elephants and antelopes gather around the waterhole near the hotel. Now days of wonderful nature experiences await, and if you like to feel the adrenaline pumping, you have come to the right place!
DAY 16: DEPARTURE

All adventures have an end and you are driven to Victoria Falls Airport for departure. You fly via Johannesburg and back home to Norway.
Are you interested in this itinerary?
Once you have completed the form, press send and please wait a few seconds for a confirmation below the inquiry form. If you haven't heard from us in a few days, email us info@getafricatravel.com