This trip goes to Durban and beautiful Zululand. You also visit the small kingdom of Swaziland which offers an authentic African experience. From here it is a short distance to Kruger National Park. It will be time to play golf at some of South Africa's finest golf courses.
DAY 1: DURBAN

On arrival Durban you will be driven to the hotel. Accommodation at 5 star hotel right on the beach in Umhlanga, a charming village north of Durban. Here you will find restaurants, shops and water activities in the immediate vicinity.
DAY 2 AND NUMBER: DURBAN

Today you can play golf at renowned Durban Country Club, established in 1922. The club is just one mile north of Durban's long shoreline, the Golden Mile, and right by the iconic Moses Mabhida Stadium. Durban Country Club has two magnificent clubhouses and highly rated golf courses. You can spend one of the days relaxing on the beach or poolside, enjoying the hotel's spa or visiting the largest shopping center in the Southern Hemisphere Gateway.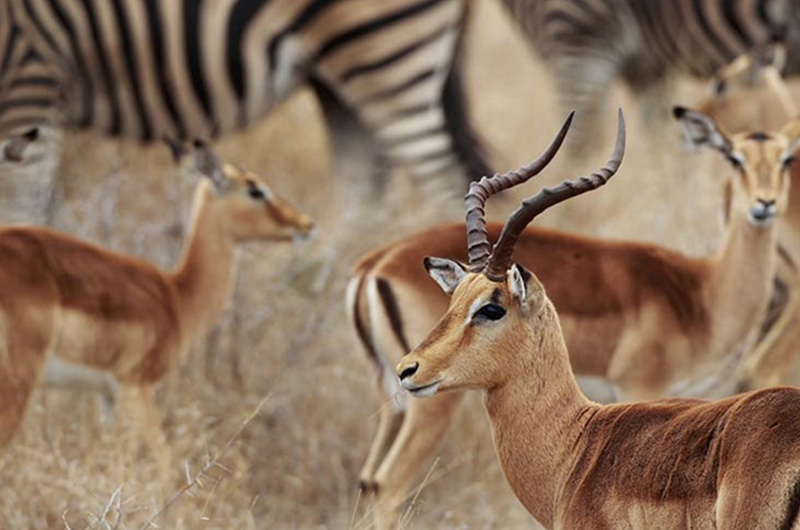 DAY 4: SAFARI

It's time for safari, and you drive to a great safari lodge in Zululand. Here you go in search of "The Big Five" (elephant, lion, rhino, buffalo and leopard) along with qualified guide and track reader. The possibilities for fantastic animal experiences are optimal.
DAY 5-6: SAFARI

A typical day in the wildlife reserve starts at dawn. The morning sun creates beautiful light and atmosphere in the bush, and there are good chances of seeing animals at this time of day. Afterwards, healthy and good "brunch" awaits at the lodge followed by relaxation at the pool. In the afternoon you go out again on safari. The day ends with dinner under the African starry sky.
DAY 7: SWAZILAND

After a morning safari, the trip goes to the small kingdom of Swaziland. Here you can visit local markets and exciting art projects, including the famous Goyena glassblowing and Swazi Candle. Accommodation in a five star hotel.
DAY 8: GOLF ON ROYAL SWAZI SUN

Today you play golf at The Royal Swazi Sun's spectacular 18 hole golf course, an exceptionally scenic course with beautiful mountain scenery in the background.
DAY 9-11: KRÜGER NATIONAL PARK
You drive back to South Africa again, and now you go to Kruger National Park. There are several great hotels and lodges connected to golf courses in the area around the park. We tailor the journey so you can combine golf with safari in one of the world's best national parks.
DAY 12: DEPARTURE

It's time for a return trip. You fly from Kruger to Johannesburg and back home to Norway.
Are you interested in this itinerary?
Once you have completed the form, press send and please wait a few seconds for a confirmation below the inquiry form. If you haven't heard from us in a few days, email us info@getafricatravel.com