Kenya is known for its animal-rich national parks, proud Masai and tropical straits.
Kenya is located on the equator, east of Africa. The country borders Tanzania to the south, Uganda to the west, South Sudan to the northwest, Ethiopia to the north, Somalia to the northeast and the Indian Ocean to the southeast. Kenya is especially known for its animal-rich national parks, its proud Masai and tropical beaches along the coast. Tourism is the main contributor to the country's economic growth and is now Kenya's largest source of foreign exchange.
Masai Mara is one of Africa's most famous national parks and is located in the Great Rift Valley. Despite the fact that the national park only covers 0,01% of the land area in Africa, more than 40% of Africa's larger mammals are found here. Across the endless plains of the Mara, lions, cheetahs, leopards, elephants and a variety of other species can experience their natural habitat.
Masai Mara is world famous for "The Great Migration", which takes place every year from late June to October / November. The migration follows the wildebeest's journey from the Serengeti to the Masai Mara during the drought in Tanzania and through the Mara River in search of food and water. During these months, the savannah is full of over 1,5 million wildebeest, zebras and other antelopes.
For safaris in Kenya, we recommend experiencing the Masai Mara and Mara Naboisho. Mara Naboisho is a spectacular and fertile reserve bordering the Masai Mara National Park where tourist operators collaborate with the local Masai to protect more nature for biological diversity. Researchers can already confirm that wildlife is growing in this protected area. The density of lions in Naboisho is among the highest in the whole world. The high number of lions on the savannah in Naboisho gives you a unique opportunity to see active lions, lions who court each other and go hunting together. Illegal hunting is a growing threat to Kenya's elephants, but researchers have noted a significant change in the elephant's habits in protected areas. Naboisho has become a refuge for the elephants - a respite in their vulnerable lives.
A trip to Kenya can be nicely combined with a few days in Nairobi and / or a beach stay at Mombasa or out on the island of Zanzibar.
Purchased at the airport upon arrival, costs 50 USD.

Kenyan Shillings (KES), but US Dollars (USD) can also be used as a rule.

Sunny all year round. The warmest period is February and March, and the coldest is in July and August. The country has roughly two rainy seasons. The longest occurs in March / April and lasts until May / June. The short lasts from October to November / December. In the rainy season it often rains heavily, and the precipitation often falls in the afternoon and evening. The temperature stays high even during these months.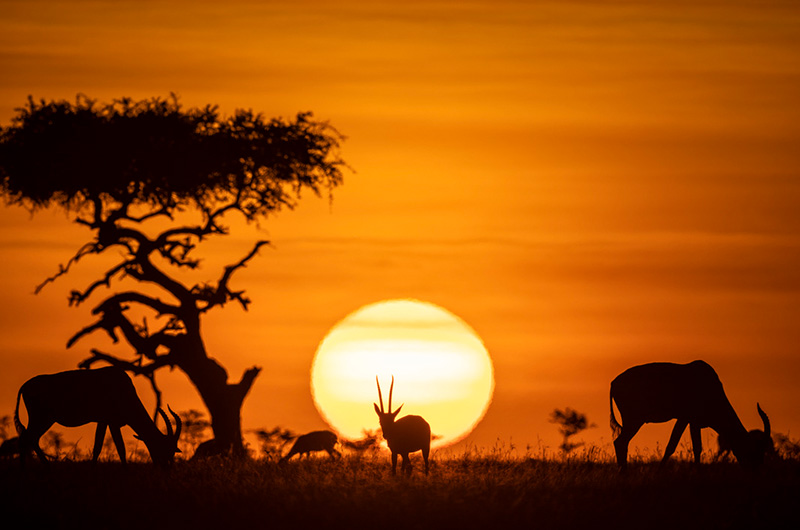 Once you have completed the form, press send and please wait a few seconds for a confirmation below the inquiry form. If you haven't heard from us in a few days, email us info@getafricatravel.com