Botswana is without a doubt the crown jewel of all noble safari destinations, and the country probably has Africa's largest stock of savannah animals. You visit the Okavango Delta, which offers an impressive network of rivers, waterways, lagoons and grasslands where it abounds with wild animals and colorful birds. Then head to the Chobe National Park which also offers fantastic safari opportunities. Chobe is called "Home of the Giants", here we find the world's largest elephant population. In addition, Chobe is known for its large lion population.
Destination: Botswana and Zimbabwe

Recommended time to travel: all year
Sustainability focus: Loud! Camper with a strong focus on hiring locally, is engaged in good local projects, concerned with protecting natural areas and cutting out plastic.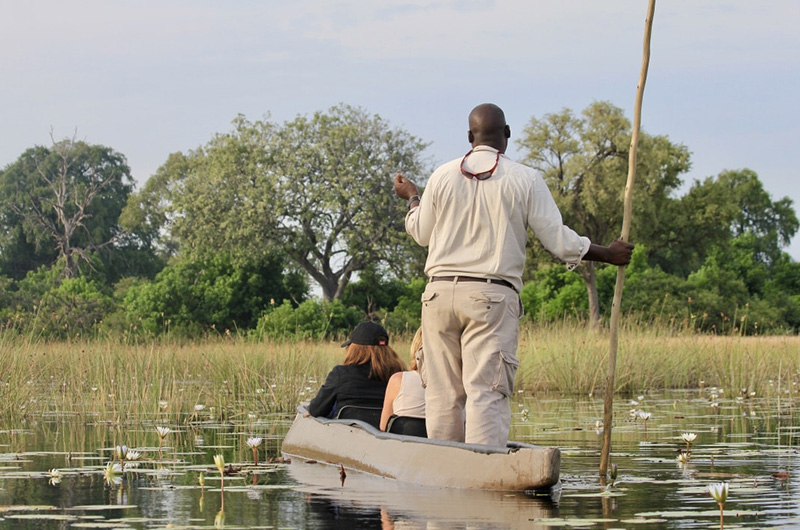 DAY 1: OKAVANGO-DELTAET

You land in Maun and fly further in small planes to the safari lodge located on Pom Pom Island in the heart of the Okavango Delta. Accommodation in beautiful classic safari tent overlooking the lagoon. The iconic mocha boats used to explore the delta provide unique close contact with the wilderness.
DAY 2: SAFARI

During your stay here you will experience a wonderfully exciting animal, bird and plant life with safari in open country ravens, boat trips and fishing trips for those who want it. Here there are no fences and few tourists make you feel you have the whole wilderness for themselves.
DAY 3: MOREMI CROSSING

After morning safaris and breakfasts, you fly 20 minutes in small planes to Moremi Crossing, also located in the Okavango Delta. The camp is 100 per cent eco-friendly combined with luxury. Here you also stay in comfortable safari tent for the ultimate safari feeling.
DAY 4: SAFARI

Here you can go on a safari on foot with skilled guides or slide off on the river in the mocha boat while enjoying the sight of elephants, giraffes, buffaloes, hippos, zebra and other animals along the delta.
DAY 5: CHOBE NATIONAL PARK

You fly on to Chobe National Park. Here four countries meet: Botswana, Namibia, Zimbabwe and Zambia. Chobe offers fantastic safari opportunities. There are over 75 species of mammals and 450 bird species in the park. During your stay here you can be on a safari by car, boat cruise and fishing trip for tiger fish.
DAY 6: SAFARI

The day starts early with morning safaris, which is when the chance of seeing animals is greatest. Return to the lodge for healthy and good lunch before heading for a boat cruise along the Chobe River in the afternoon. This is said to be one of the best ways to see Africa's wild animals and nature. The park has a total of 80 elephants, you are guaranteed to see some of them.
DAY 7: VICTORIA FALLS

You go on to the mighty Victoria Falls, called "Mosi-oa-Tunya" in the local language; "The smoke that thunders." When the water flow is at its largest, it crashes 10 million liters per minute down the 100 meters high slope. It creates a fog and rainbow that just breathes you away! If you want to know the adrenaline pump, you can choose either rafting in the waterfalls, bungee jumping from the bridge over the coarse Zambezi gorge or airy hover in minifly over the majestic falls. We can also arrange the "Angel's flight" with helicopter over the falls.
DAY 8: DEPARTURE

You are driven to the airport and fly to Johannesburg and back home to Norway. It is possible to extend your vacation by city break in beautiful Cape Town or relaxing days on a tropical beach at the Indian Ocean.
Are you interested in this itinerary?
Once you have completed the form, press send and please wait a few seconds for a confirmation below the inquiry form. If you haven't heard from us in a few days, email us info@getafricatravel.com